The Future of Communication
True ptt vs cellular
Nearly every state has banned use of "personal electronic devices" while driving, however most, like Washington State, have excluded two-way radios from their definition of a "personal electronic device."  With the disappearance of Nextel from the marketplace, there really isn't much of a grey area anymore.  Using cell phones while driving (even a PTT app) is illegal, while using your 2-Way Radio (even it broadcasts over a national cellular network) is legal.
Options
Multiple manufacturers have begun making radios that operate on a nation-wide cellular carrier's network. There is also the option of integrating this solution with a traditional 2-Way Radio network. There are currently three models to satisfy a wide area coverage requirement.
Build your own: This involves getting difficult to source FCC licenses, renting space on towers or roofs, and continual maintenance. Generally unattractive for all but the largest agencies.
Rent space on a regional private network. Industrial Communications can broker this relationship with a provider whose network covers much of Washington and Oregon.
Subscribe to service offering

 

unlimited

 

talk on a nationwide cellular network. Industrial Communications offers such a service directly. [Diga-Talk]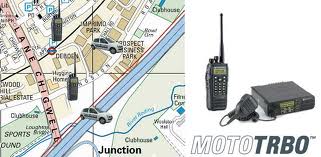 Track your mobile devices via GPS tracking software to intelligently dispatch them to the closest job and be able to know where your assets are at all times.
Diga-Talk+
Less latency delay than normal cellular PTT and Nation Wide private and group calling for $24.95 per month, unlimited. Add GPS services for an additional $3.95 per month.
1) Lightning Fast Push to Talk PoC IoT Connectivity
Our data connection handshake is 200-300ms or less in most cases providing your team INSTANT voice connections. Group Call – Private Call – Child and Parent Grouping – All Call – Emergency Call – and many more…
2) 95% Coverage Nationwide + indoor communications
With Millions of tower sites & WiFi across America you are assures secure connectivity no matter where your employees go
3) Business Grade Audio Quality, it not digital sounding
Our audio sound normal, no digital sounding audio providing you only the clearest voice messages across multiple devices
4) Always reach workers, Redundancy with 99.9% uptime
Our cloud based system has multiple servers across America and the world to fall back on, Your always on the air and connected
5) Small Rugged lite weight devices for easy portability
Working as closely as we do with our factory we are always improving and adding new features to our devices
6) Business only devices to keep employees focused
No more unwanted phone calling or texting, providing only the communication features you want your employees to have "Focused Driven Devices" Saving numerous man hours and creating a safe way to communicate even when driving
7) GPS Tracking of all devices for better customer service
Knowing where all your employees are creates a safe environment, even for those that are anywhere in the world with instant tracking alerts. Breadcrumb tracing and GEO Fencing alerting helps keep everyone in constant contact.
8) Business Apps and Dispatch Software that increase your productivity
The PC Dispatch Console Software as well as Mobile applications for both Android and iOS provides you with a view at your mobile workforce activities. You can communicate and monitor individual or team activities as well as take care of emergency SOS notifications. With the optional Real-Time GPS tracking, you get a complete visible where your field team is located. Messaging capabilities and Alerts; Geo-fence and emergencies.
9) Audio Playback, GEO Fencing, Emergency Button and Loan Worker Alerting Safety Features!
You can never be too safe, or alone. All the tools to keep everyone close by even in the field no matter what job their preforming. You're only a P-T-T away 300ms or less to connect and know each individual is doing their job safely!
10) Our Two Way Radio Solution is DOT Compliant to use in commercial vehicles providing a simple easy PTT
Prevent accidents when driving while maintaining constant contact through simple to use Push to Talk Technology
TRBOWEST Digital Network
The TRBO West wide area system was constructed in 2012 as a solution to the Nextel System being deconstructed. This system links over 20 mountain top repeaters together through IP, allowing users to talk on the radio from North of Bellingham to Ashland; Spokane, Bend and The Wenatchee and Yakima Valleys for only $19.95 per month unlimited dispatch. For an additional $4.95 users with capable radios can also use internet based GPS Tracking, Work Order Management and Texting!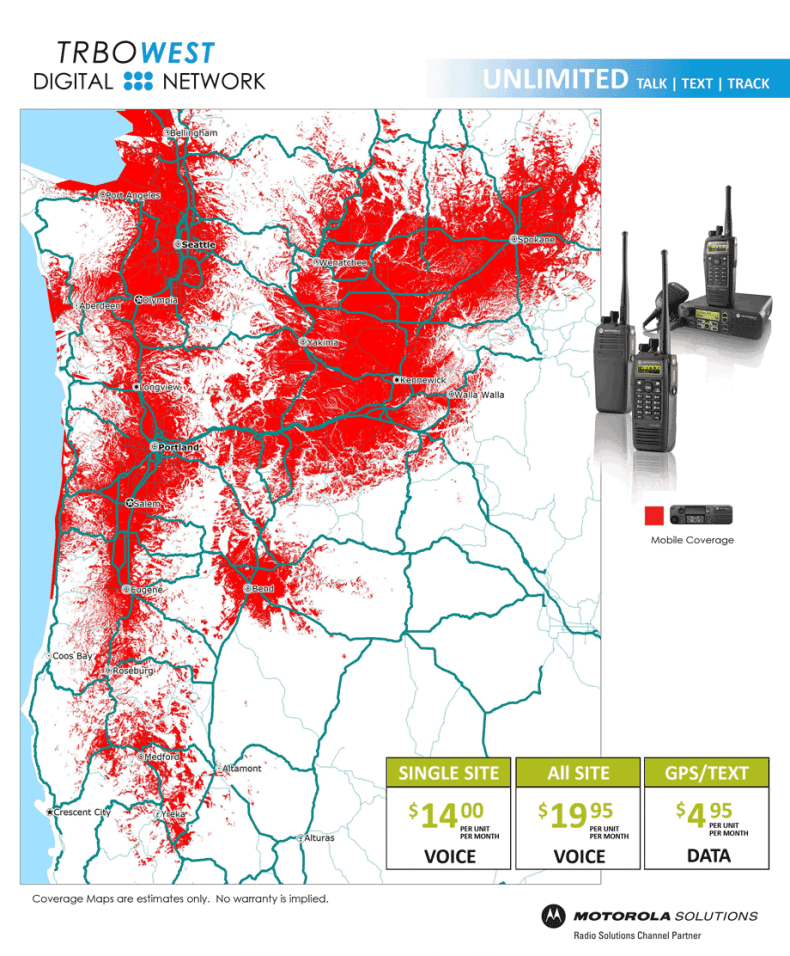 If you need more convincing, here's a side-by-side comparison of the difference between MOTOTRBO and regular cellular plans. See for yourself what will change when you make the switch.
Mototrbo
Fixed Monthly Cose
Rates drop after lease ends
No state or federal usage taxes or surcharges
Simple billing
Local service
Unlimited airtime
Group calls included (one-to-many)
Military specs durability
Submersible (1 meter water 30 minutes)
Manager Monitoring
Radio-to-radio available (talk-around)
Mobile radio model available
Loud clear audio
Distracted Driver Laws compliant
Cellular
Actual monthly cost may vary
Rates the same year-after-year
Suspect to state and federal usage taxes or surcharges
Complicated billing
National customer service

EXTRA

 

cost for additional air time

EXTRA

 

charge for group calls
Consumer specs

NOT

 

water resistant

NO

 

monitoring all calls

NO

 

use outside coverage areas
Handheld phone models only
Speaker phone or Bluetooth headset
Handheld phones banned while driving
Does your business communicate effectively?
Let Industrial Communications help you today.