THE BEST SECURITY SOLUTION
Security, safety, and justices are everyone's rights and everyone's responsibilities. But they're only achieved by working together—police and the public alike. Trusting each other. Striving as one to build communities that are equitable, peaceful, and thriving. When that alliance weakens, the security, safety, and justice we all need and deserve are put at risk.
Keeping your tenants, employees, and customers safe is most business' number one concern. 
Your employees know that you are taking this responsibility seriously when you take the time to research and invest in technology that allows them to keep the physical asset, themselves, guests, and co-workers safe.   
Technology in recent years has taken great strides in both the voice and video realms.  You can now connect several properties together via IP, so that you can talk on a 2 Way radio from an underground parking garage to a lobby of another one of your properties 10 blocks away or halfway around the world.  Not only is this extremely helpful during a security breach but it offers the redundancy you need should there be a natural disaster or power outage that affects your landline and cellular communications. 
Video has added many A-I features that not only send alerts or streamed content to your LTE-capable 2-Way radio or smartphone but can allow you to circle an item or individual and have it pop up on your console indicating what other of your cameras that person or item may have been seen on during a given period of time.  For instance, if a brown suitcase is left in the lobby of one of your buildings, you can encircle it and show which of your other cameras it appeared on within a 24-hour period.  This would hopefully lead to discovering who left it there. 
Let one of our Technical Reps walk you through several options and their associated costs and benefits to determine which product is right for you.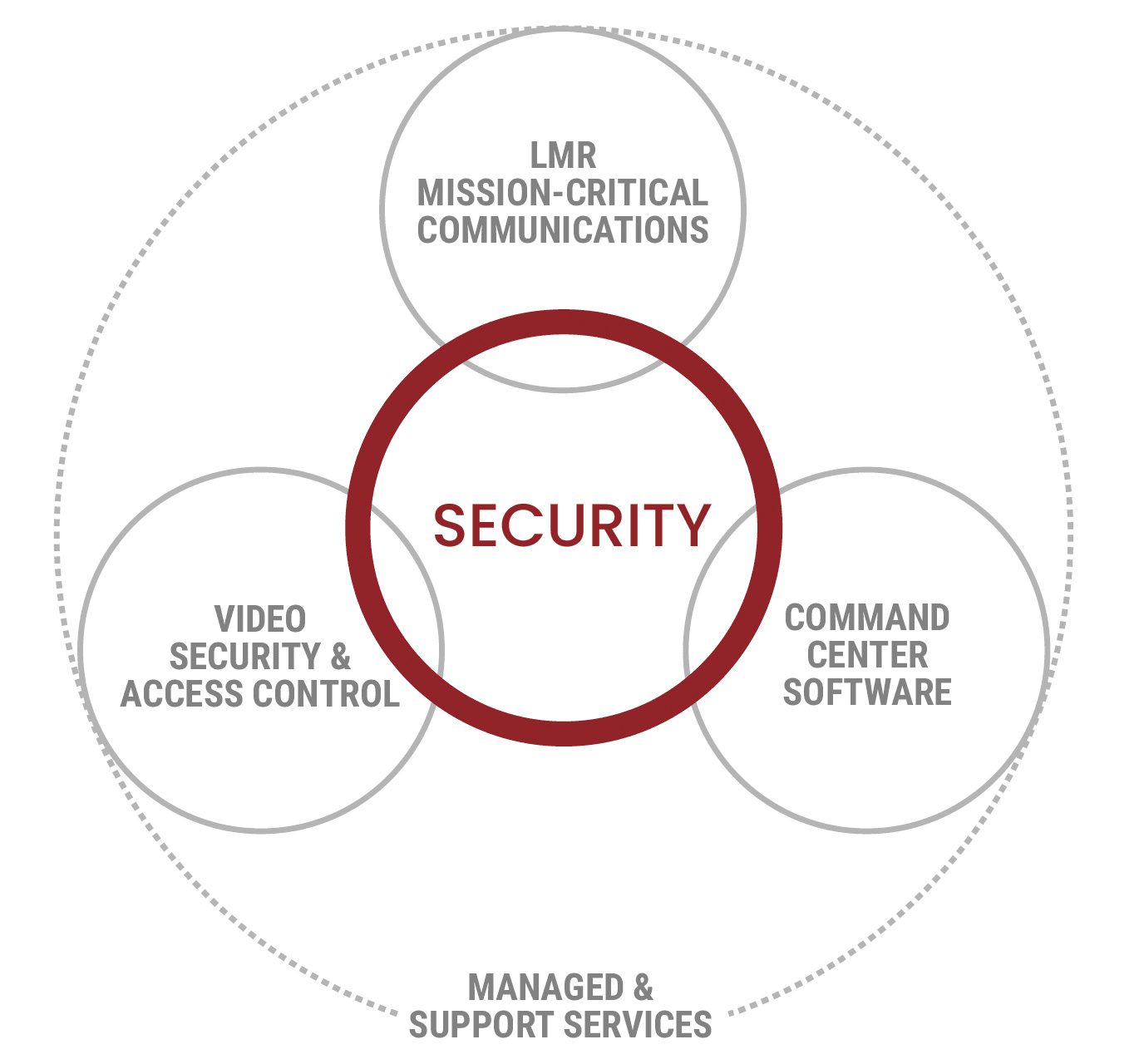 Technology has become a bridge to connect people to each other, and information. In law enforcement, this is critical for not only responding to and safely resolving incidents, but also productively engaging with members of your community. Unfortunately, all too often these benefits come with unintended consequences. Technical complexity within and across systems, information silos, and lack of sharing between those systems hinder collaboration between the people using them. Upon introducing something new, agencies have to spend more money, time, and effort to just make it work with the technologies they already have – else risk disruption. Our ecosystem is here to change that.
If security, safety, and justice are the building blocks of successful law enforcement, our integrated technologies and services, unified on a common platform, are designed to be the foundation that supports them. With communications, software, and video solutions, backed by years of research and development, we strive to help reinforce the bond between the police and the public, so trust can grow, and safety and justice can be achieved.
CRITICAL COMMUNICATIONS
Radio &  broadband devices, & interoperable networks that serve as your trusted lifeline.
VIDEO SECURITY & ACCESS CONTROL
Cameras, systems, software & analytics that help you focus more on what matters most.
COMMAND CENTER SOFTWARE
Software that connects people to data & streamlines workflows from call to case closure.
MANAGED & SUPPORT SERVICES
Ensure the systems you rely on every day are ready, secure & current with technology advancements.
Are you ready to take your communication to the next level?
Our team of experienced and knowledgeable customer reps and technicians can give you demos of the latest video surveillance, control, and digital 2-way radios, typing all three technologies together to actually live-stream video of an incident from a remote location while it is happening.
Every interaction you have with the public is an opportunity to strengthen your bond. By creating more access to accurate information and staying focused on what matters most, you and the public can form a stronger alliance. One based on a common purpose, powerful cooperation, and mutual trust. So more crimes are prevented, more cases get solved, and more people feel safe.
With our ecosystem of communications, software, and video technologies and services, unified on a common platform, you can create a continuous cycle of trust and cooperation and unleash the potential of your agency and community to drive security, safety, and justice for all.
Having a local, trusted partner that you can count on to install correctly and repair equipment to the component level can make the difference between complete frustration and total satisfaction.  Our goal is to be one of your facility's most relied-upon vendors to keep you operational when the chips are down.  Our experts can advise you on the latest A-I video camera systems, access control, and digital voice 2-way radio systems to communicate clearly and seamlessly within your facilities, even tying them together regionally or worldwide if needed.  Call us today for a demonstration.