Professional Grade Communication
For Professional Grade Business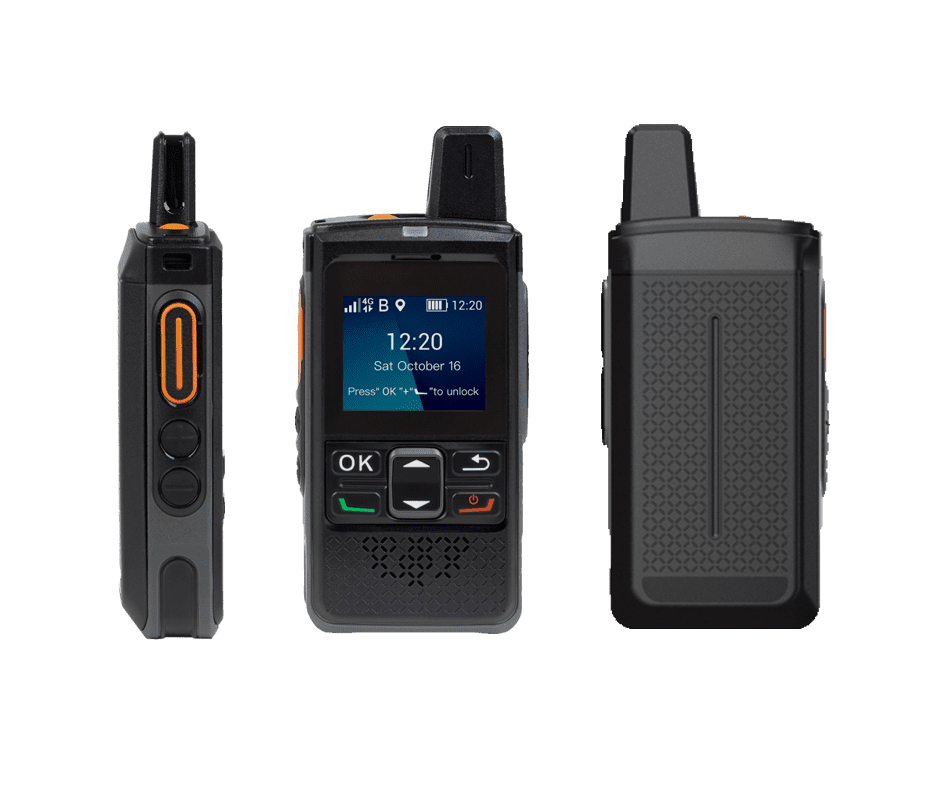 Handheld | LTE | GPS
Hytera PNC360S Push-to-Talk over Cellular (PoC) radio simplifies the way to communicate with your teammates. This radio can be operated on the widely available public network to deliver instant communications at the push of a button. It is the best choice for those engaged in supermarkets, hotels, logistics, industrial parks, urban and property management, and more.
Best-in-class audio
The PNC360S provides loud and clear audio even in noisy environments. The 3.0-watt built-in speaker ensures speech loudness, and the distortion suppression and noise cancellation technologies are adopted to boost the audio clarity.
Compact and portable
With 26.5 mm thickness, the PNC360S is compact and superbly portable. It fits comfortably in your palm or pocket. The enhanced ergonomic design, especially the one-sided key layout, makes the radio easier to use with one hand.
Longer-lasting battery
The PNC360S comes with a 4,000 mAh battery that provides power for an entire shift easily on a single charge. The fast charging gives you hours of power in minutes of charge.
Reliable and durable
Certified with IP67 rating and MIL-STD-810H standard, the PNC360S is made tough to withstand water, dust, shock, extreme temperatures, and sudden drop up to 1.2 meters. It always performs as expected in any harsh environments.
Smoother communication
Thanks to the exterior antenna design, the radio RX sensitivity is improved by 2 dB. This makes you enjoy smoother communication even in areas with weak signal such as suburb, indoor, or underground.
Precise positioning
With various combination of GPS, BDS, GLONASS, and Galileo and higher-precision positioning module, the radio can be located faster and more precise for efficient dispatch.
Nationwide Coverage
National workforce communication with mobile 3G/4G/LTE connectivity supported by the Micro-SIM
Built-In Wi-Fi
Built-in Wi-Fi supports in-building communications with seamless switching to LTE networks when outside the Wi-Fi range
GPS Positioning
GPS enables real-time tracking and positioning for the Hytera HALO Dispatch application
High-Quality Audio
Digital noise suppression and high-volume speakers for excellent voice quality in loud environments
Provides high-quality digital audio performance for individual calls, group calls, and emergency calls
Built-In Bluetooth 
Built-in Bluetooth enables connectivity to earpieces, Push-to-talk rings, and other wireless accessories
TFT LCD Display
TFT LCD display provides high-resolution visibility even under bright daylight
Supports an easy-to-use GUI menu system with clean and simple navigation
Reliable and Durable
Compliant with MIL-STD-810-G for shock and vibration
IP55 rated for water and dust resistance
Long-Life Battery
Powerful Li-Ion 3100mAh battery delivers up to 18 hours of operation
LED Flashlight
Bright LED illumination at the touch of a button
Text Messaging
Receive and view text messages sent from dispatcher and other Hytera PoC devices
Pre-Installed Apps
Android apps are pre-installed to provide convenient PoC services
Stun and Revive
Dispatcher can remotely stun (disable) or revive (return to service) if the radio is lost or stolen
Emergency Alarms and Calling 
Emergency Alarms can be sent to other radios via the one-touch programmable button
Improves worker safety and emergency response time
Does your business communicate effectively?
Let Industrial Communications help you today.