Professional Grade Communication
For Professional Grade Business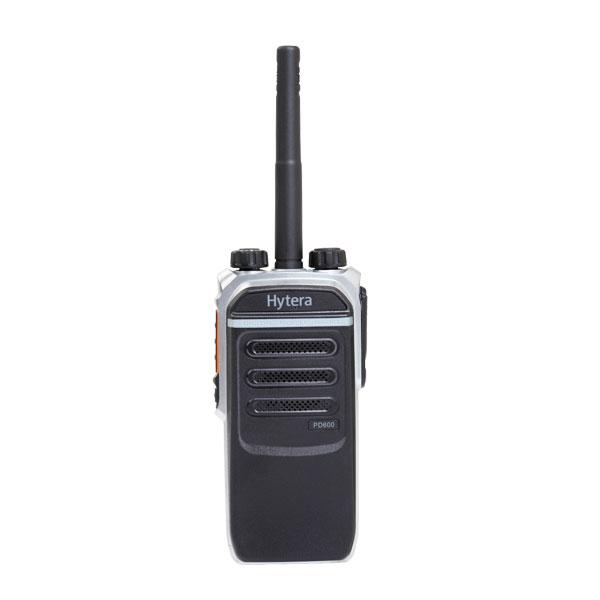 HANDHELD
|
DMR RADIOS AND REPEATERS
Delivering superior voice clarity and enhanced encryption, the Hytera PD602i portable digital radio is a compact, high quality device. At just an inch thick and weighing 10 ounces, this radio is a popular choice and ideal for long shifts.
Over-the-air Alias 
PD6i Series can support sending radio alias over the air when PTT. The radio that receives the call can decide to create a new contact or overwrite the old one automatically. It gives a great convenience to the customer to manage the fleet with the correct contact stored in each radio without touching each unit for re-programming.
Voice with GPS 
PD6i is able to transmit GPS data in the same channel during transmitting voice. This gives the customer an option to upload location information once pushing to talk. It helps to target where the speaker is immediate.
OTAP 
OTAP for Conventional Repeater System: Over-the-Air Programming modifies the parameters of remote terminals through the air interface signaling, including digital conventional channel parameters and part parameters of the terminal. It saves time and manpower to operate and maintain a radio system.
Secure Communication 
Allows basic/advanced end-to-end encryption and over-the-air encryption in digital mode. Allow scrambler feature in analog mode. (A feature for both DMR conventional and Tier III Trunked operation mode).
Out-of-range Notification in RMO
Radio is always notified when it has left the repeater overage. The users can realize if they are in the talk range all the time by paying attention to the tone.
Enhanced Quick GPS 
Compressed GPS data can be packaged in a single frame to greatly increase the capacity up to 450 units/min, which is tripled in the DMR Tier II system. This enhancement improves channel efficiency for data and reduce hardware cost.
Trunked & Conventional Switch
By pressing a single button or twisting the channel knob, it enables radios to be switched between DMR Tier 3 trunking and conventional mode without restarting. During this process, registration & deregistration in trunking system is done automatically, and over the air authentication is still available.
Optimized Push-to-talk 
It allows a radio to set up an audio buffer and store what the user speaks before the call is established. Then it sends the stored audio together with the coming real-time audio after the call is established. Therefore, users can talk right after pressing PTT without waiting for the "go-ahead tone''. This feature also enhances the handover function without dropping communications in the Tier III system during sites switch.
Emergency Mode
Raise an alarm with top priority to a base station or to other radios with the pre-programmed emergency mode, identifying the ID of the person issuing the alarm. Also receive emergency notifications.
Lone Worker 
The Lone Worker feature uses a timer in the radio to measure inactivity. If the timer expires, a warning is issued, and if there is no response to that, the alarm is triggered
Pseudo Trunking
Using pseudo-trunking, a Hytera patented technology, slots can be shared to improve capacity usage with transmissions either direct to handset or to repeater
XPT
Hytera XPT (Extended Pseudo Trunking) enables you to use limited spectrum resources more efficiently, dynamically assigning channel resource without needing a dedicated control channel.
GPS
Optional (PD602G only), enabling location based services to improve safety and control.
Bluetooth
Optional (external adapter accessory), wireless connectivity to audio devices to improve user experience
Priority Interrupt 
Send a priority transmission to interrupt other calls, ideal for important, critical messages
Man Down
Optional (PD602G only), this feature will let you know if the radio has been tilted past a certain angle. This may happen for instance if the radio user has fallen over or is unconscious or injured. The alarm will be triggered after a warning is issued to the user
Does your business communicate effectively?
Let Industrial Communications help you today.