Professional Grade Communication
For Professional Grade Business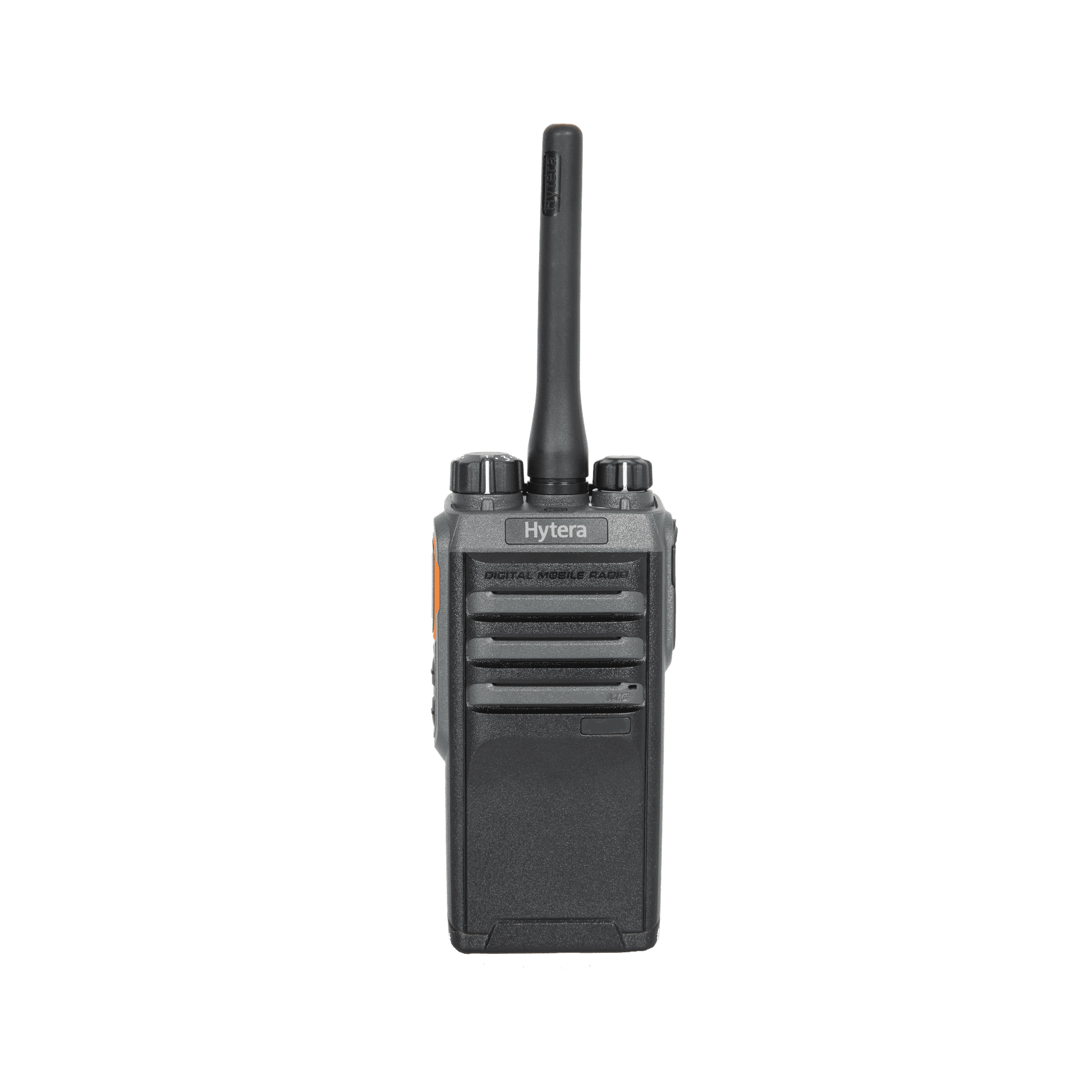 HANDHELD
|
DMR RADIOS AND REPEATERS
Hytera PD402i UHF and VHF two-way DMR radios provide reliable and easy-to-use radio communications.
Robust and reliable, the Hytera PD402i portable digital radio offers a simple communication solution, ideal for users operating in manufacturing, facilities management, or educational environments.
Ergonomic and Easy to Use
Tactile buttons for no-look PTT and emergency calls.
High-Quality Audio
Audio equalizer adjusts the low, mid, and high-frequency gain.
Provides high-quality digital audio performance with loud and clear private calling, group calling, and all calls.
Long-Life Battery
Powerful Li-Ion 1500mAh battery.
Delivers up to 16 hours of operation in digital mode and 12 hours in analog mode.
Reliable and Durable 
IP55 is rated for water and dust ingress and compliant with MIL-STD-810-G for impact strength and durability.
-22 F to +140 F (-30 C to +60 C) operating temperature.
Emergency Alarm
Emergency Alarms can be sent to other radios via the one-touch programmable button.
Analog & Digital Auto-Detect
Simultaneously monitors analog and digital modes and automatically responds in each mode.
Enables simple and cost-effective migration to digital.
Pre-Programmed Text Messaging 
One-touch sending of pre-programmed text messages.
Stores up to ten pre-defined text messages.
Vox
Voice-activated communications (VOX) activate the microphone by speaking to enable hands-free operation.
Also supported on external earpiece and microphone accessories.
Upgrade Features (Optional)
Encryption for secure audio and data.
Priority Interrupt allows dispatchers to interrupt existing calls with important emergency information.
Remote Monitor allows the dispatcher to key the PTT button and listens in an emergency situation.
Stun/Revive enables dispatch and other users to disable/enable a radio if it is stolen, lost, or used maliciously.
Systems and Network Features
Roaming allows radios to seamlessly move between connected repeaters with non-stop voice transmission.
Pseudo Trunk is a virtual trunking feature that automatically uses whichever digital timeslot is free to improve call connectivity and frequency efficiency.
The PD402i can be deployed on DMR Tier II systems.
Radio Registration Service (RRS) allows the PD402i to communicate with dispatch and unified communications applications.
Does your business communicate effectively?
Let Industrial Communications help you today.