Professional Grade Communication
For Professional Grade Business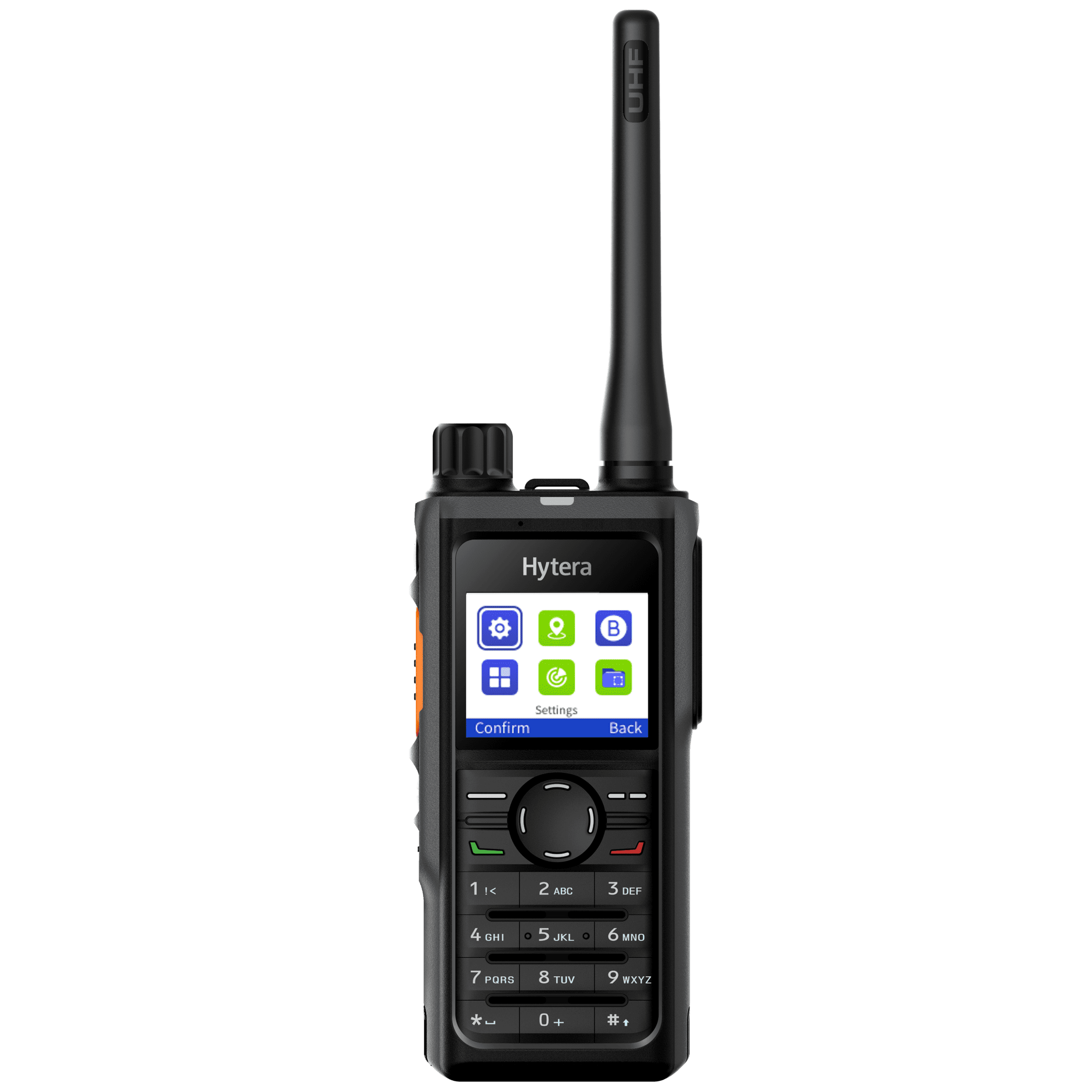 HANDHELD
|
DMR RADIOS AND REPEATERS
The Hytera HP682 Handheld Radios are the next-generation in creative style and functionality that elevates the industry standard in professional two-way radios. It is the new state-of-the-art in digital radio communications, providing a more efficient experience with loud and clear audio, longer battery life, intuitive user interface, extended range, and ruggedness.
The HP682 Handheld Radios feature a 1.8″ TFD-LCD display and full keypad that support a wide variety of information and functionality, a 20-hour Lithium Polymer battery, GPS, and industry-leading audio performance. The HP682H-Series radios empower employees in customer service or severe working environments with efficient and reliable communications.
Simplified Navigation 
The app icons are arranged in a six-grid layout, making visual recognition more intuitive. The menu layers are simplified and streamlined so users can easily change settings and adjust features.
Clear Notifications and Information Display 
On the home screen, the HP682 displays time and contact alias/ID and can display two notifications simultaneously. The radio supports notifications of emergency calls, missed calls, call alerts, and new messages, and users can preview message contents. The dialing interface supports the selection of individual calls, group calls, PSTN / PABX phone dialing, fast dialing, and channel switching (CPS selection configuration). The call interface displays call status (digital/analog, encryption status, recording status, call transfer, etc.), contact alias / ID, contact address, call duration, and speaker location information.
Multiple User Profiles
The HP682 supports four User Profiles that can be selected according to the scenario and set the corresponding tone, volume, vibration, and more. For example, profiles can match the environment, such as indoors or outdoors, or in a meeting.
Interface Switcher 
The HP682 interface features an Interface Switcher that allows users to easily switch between the home screen and up to three frequently used interfaces. This makes it easy to view or perform feature settings on these interfaces for efficient operations and to ensure rapid response in critical situations.
Dynamic Calls 
The HP682 allows users to manually dial without switching the dialing mode. In the dialing interface, users can select a private, group, or PSTN/PABX call. In addition to the contact alias/ID, the radio also displays call status (including call mode, encryption status, recording status, and call forwarding status), contact address, and call duration.
Text Messaging and Conversational SMS 
The HP682 supports sending private and group text messages. Messages can be typed freeform or the user can send and receive a variety of preprogrammed messages. The short message is displayed in the form of a dialog box, along with the message and sender details. The interactive mode is more intuitive, and the message sending and receiving is simple and efficient.
Enhanced GPS Location Tracking
The HP682 and HP602 radios can report current location information to other radios, the dispatcher, or third-party applications in real time, enhancing the efficiency of visualized dispatch applications.
GPS data can be transmitted during voice calls for immediate location targeting, and GPS data can be compressed to increase channel capacity and reduce hardware cost.
Higher Security
The HP6 Series supports Digital End-to-End and Over-the-Air Encryption for voice and data transmitted on digital channels to prevent eavesdropping.
Hardware encryption is implemented through a built-in encryption card. Software encryption uses the secure and reliable ARC4 and AES encryption algorithms. Radio authentication prevents unauthorized users from accessing the system. If a radio is lost or stolen, the system can Stun or Kill the radio to prevent unauthorized use.
Bluetooth
Built-in Bluetooth supports both audio and data, and enables connectivity to wireless accessories.
Multi-System Operation
The HP6 Series can be deployed in a wide variety of analog and digital radio networks, including Analog and Digital Conventional, MPT and XPT Trunking, DMR Tier II Trunking, IP Multi-Site Connect, and DMR Simulcast Systems.
Extended Coverage and Connectivity
The HP6 Series extends radio range through increased Tx power, Rx sensitivity, improved antenna gain, and reduced attenuation. This produces a 25% increase in coverage distance and signal penetration through buildings. The enhanced coverage improves efficiency and reduces network infrastructure costs.
Two patented technologies and a voice buffer reduces packet loss during Rx handover for consistently clear calls and fewer dropped words.
Greater Calling Flexibility
A variety of calling modes provides the flexibility to communicate with any or all users. The HP6 Series supports Individual Calls (radio to radio, radio to dispatcher), Group Calls (one radio to many, dispatcher to many), All Call (broadcast call to all radios, transmit only), and Telephone Calls (requires connectivity to PSTN, PABX or SIP networks).
Does your business communicate effectively?
Let Industrial Communications help you today.